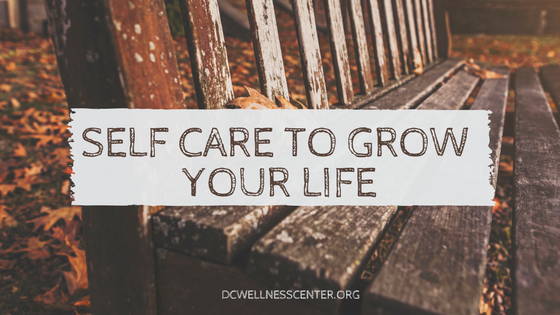 If someone asked me " what is the number one thing you recommend to focus on to grow my life and to be happier, successful and content?" I would tell them: self care.
Are you surprised? We live in a world where people are considered to be selfish, and I am telling you to do self care. Here's the catch – there is a big difference between self care and self love and being selfish. The best way to grow a relationship, your health, your business, your children's' respect and your life in my opinion is self-care.
Take a look at the world around you. You see it everywhere –  people are running around focused on other things and other people. All the distractions resulting in increasing moments of unhappiness. Having busier lives is ultimately leading to less than enjoyable lives.
Focus on Self-Care
If we focus on self care as the number one thing to turn our life around, that's exactly what would happen. Many of us grew up warned not to be selfish, to work hard and put your kids first; but, are those beliefs that are creating success? Can you imagine what would happen if you invested some of your time, money and energy into yourself? If my question alone made you say "that would be awesome," then some self-care is just what you need.
We were meant to enjoy life and have peace and happiness so that when those bumps in life come along, they are easy to navigate and overcome because we are strong individuals with mental clarity. Unfortunately far too many times people wait until they've had major crisis to create change.
This is exactly why we say procrastination is the number one reason for health and life crises. We wait until we are in a crisis situation or are beaten down emotionally by life before we decide to make changes.
Focusing on self care will drastically change your life.
Here are some ideas to incorporate some more self-care into your life:
getting up 30 minutes early before your family for your own time to journal a few pages each day
spend 10 minutes in a quiet state to listen for guidance
go to yoga, Pilates or another fitness class
feed your body well with healthy, real foods
read some spiritual scripture (for even 30 seconds)
do 100 push-ups a day
get a massage
commit to regular chiropractic and massage visits
have coffee with yourself
go for a walk and spend some time dreaming about life
When you focus inward and spend more time focusing on your life and making YOU better, the more greatness you can spread to your family, children and to those around you. If we all focused on making ourselves be the best as we can, could you imagine the impact it would have on humanity?
Happy and healthy individuals make up a happy and healthy family, and happy families then make a happier community to reside in.