Meet our November Family of the Month:
Courtney, Steve & Ellie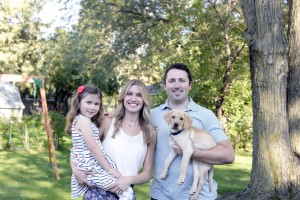 1. What brought you to DCWC?
I was seeing a chiropractor throughout my pregnancy to alleviate some of the back pain I was experiencing. Once Ellie was born, we began looking for a chiropractor for our whole family and found DC Wellness when Ellie was around 18 months old. I was looking for a place that could be our health & wellness home. I wanted to find professionals we could trust to help us deal with the root causes of things as they came up rather than treating the symptoms. After meeting with Dr. Connie for our initial consultation, I knew we had found the perfect place & people for us.
2. What experiences and results have you seen by being adjusted regularly?
For Ellie, we see improvements in her sleep and mood with regular adjustments. Because she was a tip-toe walker, she recently went through a 6 week process of casts on both her legs. I believe having regular adjustments during that process helped speed things up since her spine was aligned before each new set of casts was put on.
For Steve, he has seen improvements with his pain and inflammation. Through the advice of Dr. Connie, eliminating certain foods and doing the Whole 30 helped significantly as well.
For me (Courtney), I have seen huge improvement in managing stress & anxiety and the physical ailments that come along with that. Having regular adjustments and taking a minute to explain how I'm feeling and note where anything is manifesting has been huge for me.
3. Has there been any unexpected changes by being adjusted?
I think for our family, we knew going in what the value was in regular adjustments. What we have been so happy with is the additional ways the team at DC Wellness Center looks to help improve our lives and wellness.
4. Is there anything you think people who aren't under care should know?
I think that people need to know that chiropractic care isn't just for when you are injured. It's a lifestyle choice to help keep yourself well all the time, not just when you have pain!