Each month we will be spotlighting a wellness practice member or family each month that exemplifies a person or family that is living a chiropractic wellness lifestyle.
Meet Laura & Kellen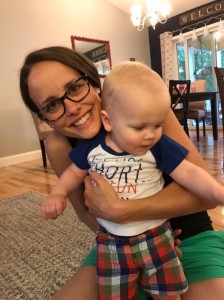 1. What brought you to DCWC?
I was about 30 weeks pregnant and having incredible rib pain. A good friend who is a chiropractor helped me find a provider in the Maple Grove area. She did some quick research and about an hour later texted me with a website saying to call and make an appointment with Dr. Jen or Dr. Connie. Dr. Jen was able to get me in the very next morning and I will be forever grateful for that early morning appointment!
2. What experiences and results have you seen by being adjusted regularly?
I was adjusted regularly for the remainder of my pregnancy and beyond, my son started his regular chiropractic care the day after we got home from the hospital. Regular adjustments were key in helping with the one word no new parent wants to hear … colic. Dr. Jen and team were fantastic in providing loving care for both Kellen and I during those rough months as well as additional care recommendations.
3. Has there been any unexpected changes by being adjusted?
SLEEP! As a new born and infant, Kellen always slept wonderfully the day of his adjustments. Which lead me to believe there was a light at the end of this tunnel of not sleeping. I, in turn, also slept great the days we got adjusted. Not only did I sleep but felt like there was less stress on my system and generally felt more energetic. I found regular chiropractic care to also be a great way to help manage headaches and migraines. With the help of Kellen's chiropractic care we were able to avoid having tubes in his ears. We had a rough patch last winter with 3 double ear infections in the span of 4 weeks, Dr. Jen was instrumental in helping Kellen and we are happy to say he hasn't had an ear infection since! 
4. Is there anything you think people who aren't under care should know?
It's not scary and it doesn't hurt. Really, what are you waiting for? The sooner you give it a try, the sooner you will see positive results!